Description
Supplement facts: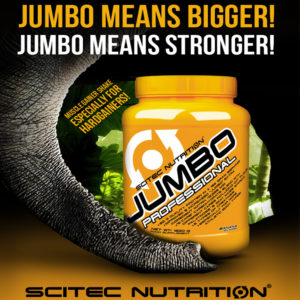 per serving of 160 g in 400 ml water / *%RDA
Calories: 579 kcal
Calories from fat: 56 kcal
Total fat: 6.2 g
-of which saturated fat: 1.6 g
Cholesterol: 120 mg
Sodium: 151 mg
Vitamin C: 80 mg / 100 %
Potassium: 360 mg / 18 %
Total carbohydrate: 78 g
-of which sugar: 44.5 g
of which dietary fiber: 0.5 g
Protein: 55 g
Magnesium: 60 g / 16 %
6 Carb matrix: 84 g
Jumbo matrix: 12244 mg
Crea-Bomb matrix: 6600 mg
Hemo-No matrix: 860 mg
Jumbo amino select matrix: 3450 mg
BCAA Xpress complex: 1000 mg
BioPerine®: 5 mg
Micronutrient support complex: 329 mg
*%RDA = Percent of the Recommended Daily Allowance.
Ingredients example chocolate flavor:
Ultrafiltered whey protein concentrate, oat flour, maltodextrin, Palatinose™ (isomaltulose), dextrose, fructose, creatine monohydrate, cocoa powder (10-12%), waxy maize starch, taurine, flavoring (chocolate), L-arginine base, L-glutamine, L-leucine, micronized creatine monohydrate, L-alanine, L-isoleucine, L-valine, magnesium carbonate, beta alanine, creatine citrate, thickener (xanthan gum), creatine phosphate, ascorbic acid, Kre-Alkalyn® creatine monohydrate, L-carnitine-L-tartrate, creatine pyruvate, L-lysine HCl, L-phenylalanine, artificial sweeteners (acesulfame K, sucralose), L-ornithine HCl, alpha-ketoglutarate calcium, alpha lipoic acid, BioPerine® (piper fruit extract).
Allergen info:
Manufactured in a facility that processes milk, soy and egg proteins, gluten and peanuts.
Warnings:
Keep out of reach of children.
Don't exceed the recommended daily dosage.
Use this product in conjunction with food as part of a healthy and balanced diet and not as a substitute for such.
Not suitable for children, adolescents, pregnant and lactating women.